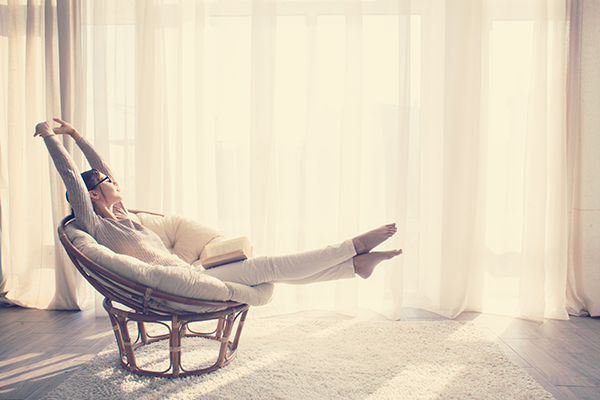 With a little extra effort you can make any room feel as luxurious as a suite at a fancy hotel. And the best thing is, you can make it personal and thoughtful.
Bed
We all have different preferences in which type of pillow we like. Make up a double bed with four ample sleeping pillows - two medium or firm and two soft. Adding two smaller pillows lets your guest prop up the head when reading. Use cotton or linnen sheets. Starch and ironing will give them that hotel crispiness. A light weight throw will invite to afternoon naps.
Writing
Provide a small desk and stock it with pens, paper, note cards and envelopes. Also write a list with your favorite local places such as restaurants, cafes, museum, antique shops, bars etc. Provide timetables for buses ferries or trains.
Relaxing
A comfortable chair with a throw, good adjustable lighting and an adjacent table with books and magazines invites to relaxation. WhMake it even more thoughtful by adding a radio or speakers where the guest can plug in a smartphone.
Dressing
Make sure that your guest can unpack and keep his or her zen by providing enough closet and drawer space. Make sure that you supply a variety of hangers, at least a dozen, that will hold trousers, jackets, flimsy dresses and heavy coats.
Mirror
Your guest probably wants to be able to take a look in the mirror before leaving their room. Let's provide them a full length one. Also a mirror makes any room look more spacious. If you want to go that extra mile, make sure there is an outlet beside the mirror for hairstyling and also a smaller mirror on hand to enable 360 degrees view.
De-clutter
Comfort and space are more soothing in a strange room, than a clutter of unfamiliar things. This is why you should keep the room de-cluttered. On a bedside table you can place a single flower, a nice clock and some books.