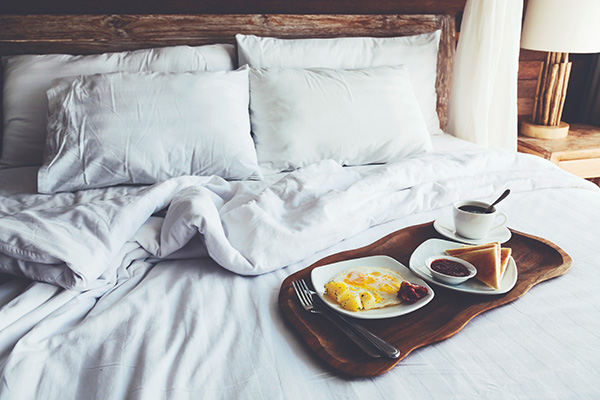 Hotel beds can be too hard, too soft and surely many other things. But they pretty much all have one thing in common. They have that special crisp feel that you never get at home. Make sure to keep these things in mind when planning your guests beds.
Sheets
The true hotel experience is created with high thread count sheets and you should go all in on white. White sheets is a symbol of luxury and an all white bed will make your guest feel luxurious and relaxed. Also white looks clean and inviting and will alter your mind and body to give your guest a quality rest.
High thread count is 300 or higher. This will have a large impact on how comfortable your guest is and how well he or she will rest. In other words, when you are comfortable you get better sleep.
Pillows, pillows, pillows
By investing in a few different types of pillows you will be able to let your guest choose what they prefer. This will bring a true luxury touch on your accommodation.
You don't have to overdo it. But create a variety with feather and down, down-alternative, and a boudoir pillow. These options give you variety and allow you to arrange pillows in a way that makes you feel comfortable and swaddled. Five pillows is a good balance.
Mattress and bedding
No amount of preparation and attention to precise detail will counter an uncomfortable mattress and you need to invest in the mattress and bedding. Most hotel mattresses feature a medium (about half of travelers prefer a medium mattress) to firm innerspring coil that offers both excellent support and a comfortable night's rest.
These mattresses are also very durable and can stand up to years of use and abuse by hotel guests. For example, while parents wouldn't let kids jump on their mattress at home, the rule often doesn't apply to hotel mattresses.