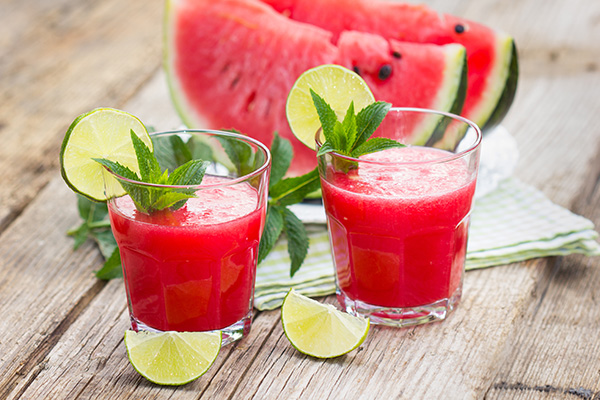 To offer a variety of non alcoholic beverage is really sending a message of high quality and great hospitality. The recipes are endless and off course your drink menu should, as anything else, fit your brand. Here are five delicious recipes.
Sparkling rosemary limeade with a punch
(Makes eight 5-ounce servings — or more, depending on dilution)
1 cup lime juice (from about 6 limes)
3/4 cup sugar
Peel of 2 limes
Two 4-inch sprigs fresh rosemary, plus more to serve
4 to 6 cups chilled sparkling water
Stir the lime juice with the sugar in a small saucepan and bring to a simmer over medium heat. Lower the heat and cook, stirring frequently, until the sugar is completely dissolved. Add the lime peel and the rosemary sprigs. Simmer for another minute, then turn off the heat. Cover and refrigerate overnight.
Strain out the lime peel and rosemary and mix with the chilled sparkling water in a sealed jar or bottle. Taste and add more water if you want a lighter flavor.
Serve over ice with a small sprig of rosemary muddled into the drink.
Pink grapefruit and pomegranate soda
(Makes about 6 drinks)
1/2 cup pink or red grapefruit juice (from about 1 small grapefruit)
1/2 cup pomegranate juice (from about 1 medium pomegranate)
1 cup sugar
2 star anise pods
Ice
Soda water
Pomegranate arils for garnish (optional)
Combine grapefruit juice, pomegranate juice, sugar, and star anise in a small saucepan over medium heat. Boil for 1 minute, stirring constantly to dissolve the sugars. Remove from heat and let sit 30 minutes. Strain and discard solids. Let syrup cool completely.
To serve, fill an 8-ounce glass halfway with ice cubes, add 3 tablespoons of syrup, fill with soda water, and stir. Add more syrup for a sweeter or stronger flavor. Garnish with pomegranate arils.
Watermelon strawberry cooler
(Makes 2 approximately 8-ounce drinks)
4 cups cubed watermelon
1 cup hulled strawberries
1/2 peeled lime (or juice from 1/2 lime)
2 teaspoons chia seeds
6 mint leaves, plus more for garnish
Ice (optional)
Blend the watermelon, strawberries, and lime until smooth. Strain through a sieve, pushing the juice through with a spatula. Discard the solids. Mix the chia seeds into the juice and refrigerate for about 15 minutes to let the chia seeds swell.
Muddle 3 mint leaves in the bottom of each glass. Fill glasses with ice (optional). Stir the juice to break up the chia seeds, pour into glasses, and serve.
Elderberry shrub
(Makes about 1 1/2 cups syrup)
1 cup elderberries
1 cup vinegar
About 1 1/2 cups sugar
Soda water to serve
Wash and dry the elderberries, place them in a pint-size jar or non-reactive bowl, and lightly crush using a fork or potato masher. Add vinegar and stir to combine. Cover and refrigerate for at least 24 hours, occasionally shaking the jar or stirring the contents of the bowl.
Give the mixture a good shake or stir and then strain using a fine-mesh strainer and/or cheesecloth. Discard the solids.
Measure the liquid. For every cup of liquid, use 1 cup of sugar. Combine liquid and sugar in a saucepan. Bring to a boil over medium-low heat, stirring to dissolve the sugar. Boil for 5 minutes and remove from heat. Let cool, bottle, and refrigerate for up to 2 weeks.
To serve, mix with sparking water. Start with 1 part shrub to 6 parts sparkling water and adjust to taste. The syrup may also be mixed with still water or used in cocktails.
The classic: Arnold Palmer
(Makes 4-6 glasses)
4 English breakfast tea bags
1 tea kettle filled with boiling water
1 cup Simple Syrup, recipe follows
1 cup lemon juice
1 lemon, zest
2 cups ice cubes
Simple Syrup:
1 cup sugar
1 cup water
Simple Syrup:
Add the sugar and water to a medium saucepan. Bring to a boil and allow to simmer until the sugar has dissolved. Remove from the heat and set aside to cool completely.
Ice tea:
Tie the tea bags together attach to the handle of a large pitcher. Pour the hot water over the tea bags and into the pitcher. Set aside to steep for 5 minutes.
Lemonade:
To a blender, add the Simple Syrup, lemon juice, lemon zest and ice cubes and pulse to puree. Place the mixture into the freezer until the tea has finished steeping.
The Arnold Palmer:
Add ice cubes to a large glass and top with the tea. Using an ice cream scoop, scoop the "lemonade" into the glass.